Truck and equipment warranty
Peace-of-mind from the most trusted names in the business
Whether it's for transport trucks or heavy equipment, we partner with the best warranty providers in the business to offer buyers the best coverage possible on eligible assets.
For sellers, warranty eligibility makes your items standout from the rest by increasing the exposure and visibility to potential buyers, as well as highlighting the quality of your item.
Get contacted by an expert
Complete this form to get started
*The information collected will be retained in accordance with our privacy statement.

Heavy equipment warranty
Protect your ability to get the job done with a warranty available on select heavy equipment. You're covered against mechanical breakdown or failure of major drive train parts*, including the engine, transmission/hydrostat, and final drives/differentials.
Benefits:
US/Canada-wide coverage
Low rates, easy claim process
Customer flexibility - choice in any licensed repair/service center
Ability to reassign warranty to a new owner
Parts paid at MSRP and labor paid at list price for shop rate on all approved claims
Overall condition and functionality reviewed by Ritchie Bros. staff

Truck & transportation warranty
Get protection against the high cost of commercial truck repair. Your warranty covers major components*, including engine, after-treatment, differentials, and more.
Benefits:
3,000+ service centers across US/Canada
24/7 breakdown support
Progressive damage on covered parts
Easy claims handling, including app, email, or call
Ability to reassign warranty to a new owner
Below you will find competitive warranty options from our trusted providers.
(covered warranty components are listed and terms and conditions)
Heavy Equipment Pricing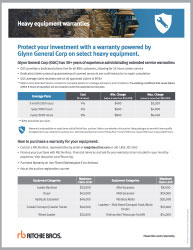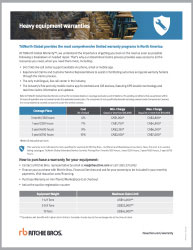 Trucks/Transportation Pricing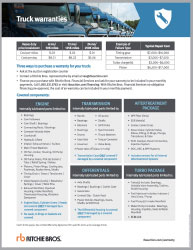 Maximize your returns - pre-purchase a warranty option on qualified items
For all other information about warranty, contact:
Email: vas@ritchiebros.com
Phone: 1.855.331.5762