There are many reasons to sell a farm. And many more reasons to sell through a Ritchie Bros. unreserved public on-the-farm auction in Canada or the USA. If you're making plans to retire, relocate, re-size, or re-align, Ritchie Bros. is here to help. Our on-the-farm auctions bring farmers qualified buyers, better returns and, more importantly, the opportunity for change.
Talk to a representative near you about selling your farmland and equipment at a Ritchie Bros. unreserved auction.
Farm sales: we do it all for you.
When it's time to sell your ag equipment, farmland, or both, you need an auction company you can count on – one with the experience, market knowledge and a solid reputation for helping Canadian farmers get the best returns possible.
We take care of the entire selling process. From start to finish, your success and satisfaction are our goals:
All-inclusive service designed to make the process as easy as possible
We market your equipment, handle all inquiries, conduct the auction, collect proceeds and deliver payment within 21 days of auction (we even submit any applicable sales taxes on your behalf)
Deep knowledge of the ag market to help sellers get top dollar
Full set-up crew takes photographs and creates detailed descriptions of your assets
Certainty of sale - every item sells on auction day
Sell farm real estate with confidence
Over our 60+ years in business, Ritchie Bros. has sold hundreds of thousands of acres of property across Canada. Sellers count on our Real Estate division's expertise and decades of experience – along with our unparalleled marketing and ability to reach buyers across the country and around the world – to maximize their returns.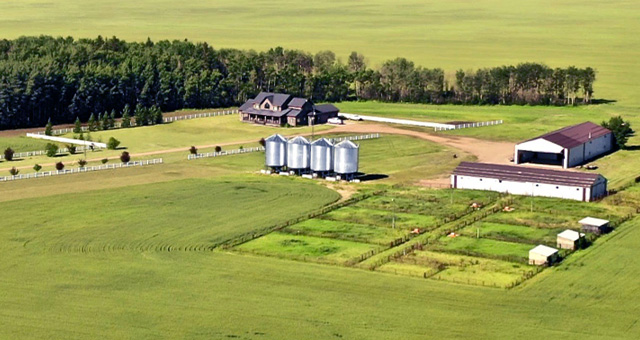 Whether you're an individual seller or a business, we're ready to help you sell any size and any type of property. Your success is our goal.
Contact us to sell
Helping farmers sell for over 60 years
Time-saving, all-inclusive service
Certainty of sales – every item sells on auction day
Extensive choice of scheduled auctions
Hundreds of competing national & international bidders
Local real estate representatives dedicated to your success
Real Estate & Brokerage division with decades of combined experience
Sell your equipment. Sell your farm.
Complete this form or call +44 (0) 1709 288221 to get started
Need more information or want to speak to a representative? Contact us >.