Ensenada, MEX
For immediate sale
Through a private negotiation procedure, Ritchie Bros. is selling a Poseidon barge located in Ensenada, Baja California, Mexico.
The Poseidon barge was built in 2014 for Shell to use in an Arctic gas/oil exploration program. Ultimately, the program was canceled before any systems were used and the barge was sold to the current owner in new condition.
Two possible uses for the Poseidon:
Arctic Containment System (ACA):
The barge may act as a first responder in the event of an offshore well blowout. APCO1/ APCO2 processing units are designed to collect mix given off by a well and process it. This process separates the water and scrubs it before placing it back in the ocean. The oil and gas that are drawn out of the mixture can either be incinerated immediately or stored for future use.
Floating Production and Offloading System:
The Poseidon may operate as a primary processing unit for one well in deep waters (> 1,000 ft.) or for several oil platforms in shallow waters. The processing capacity of the barge is 30,000 barrels per day.
Get access to the virtual tour or schedule a personal inspection.
*The information collected will be retained in accordance with our privacy statement.
Close
Show zoom options
Hide zoom options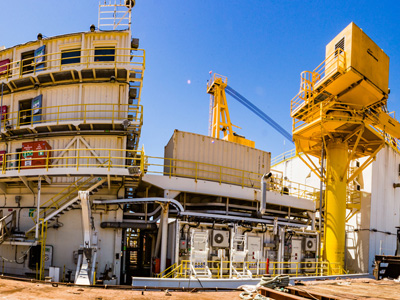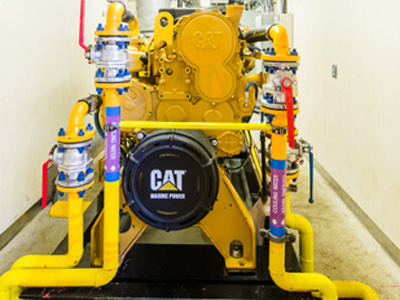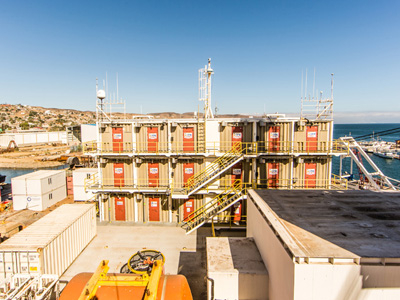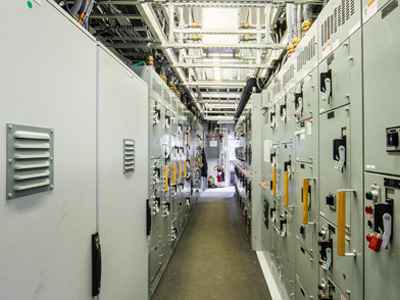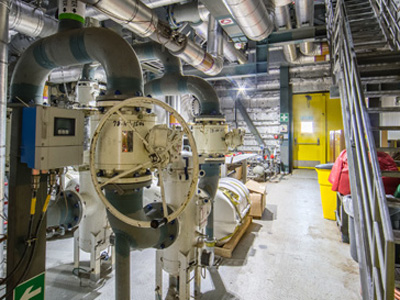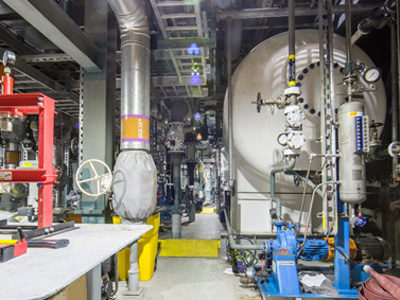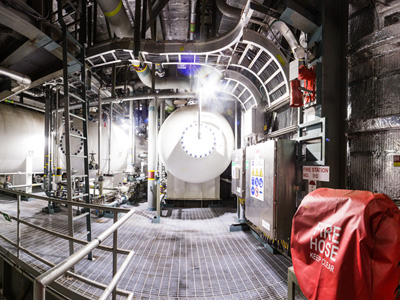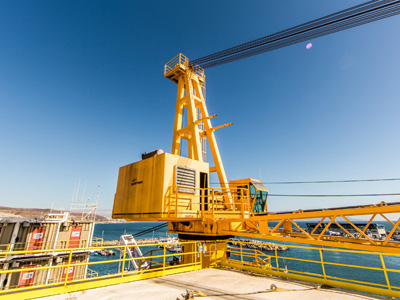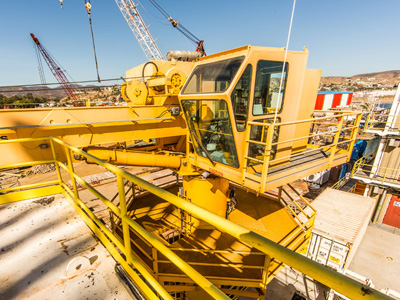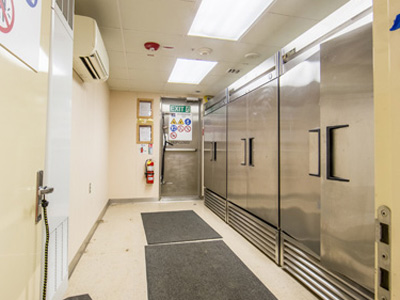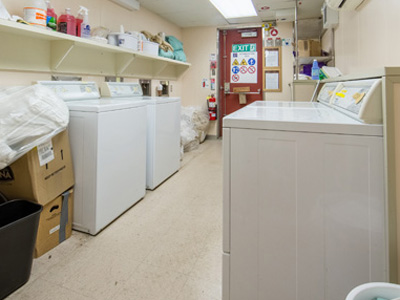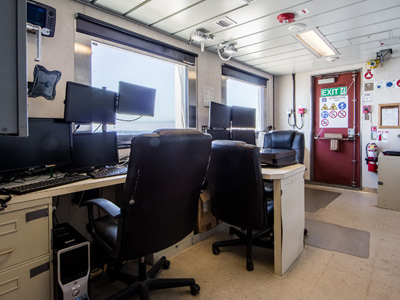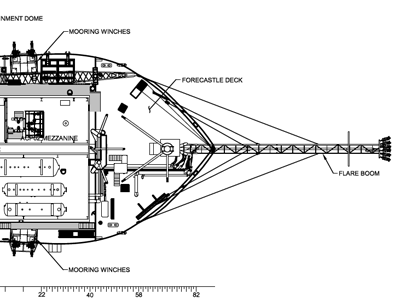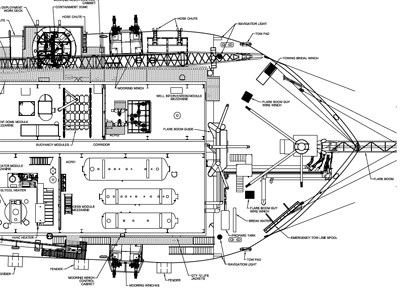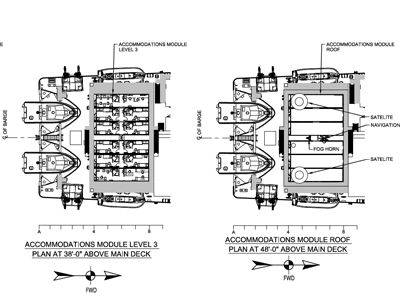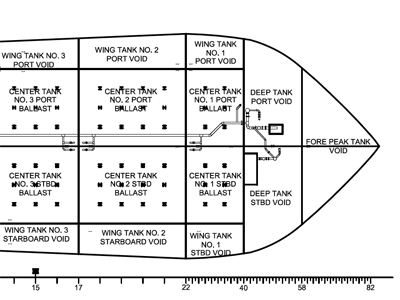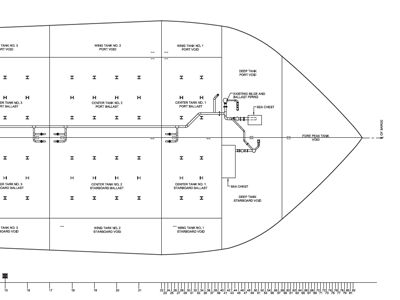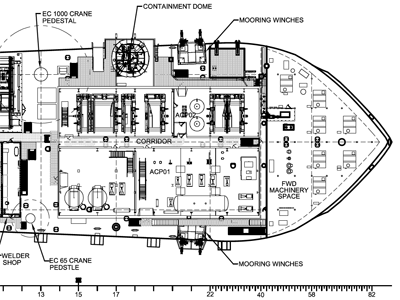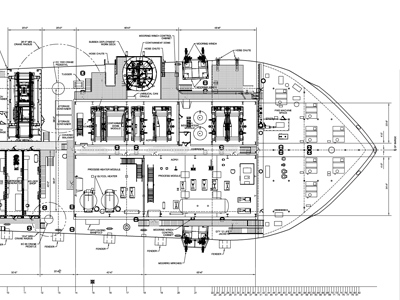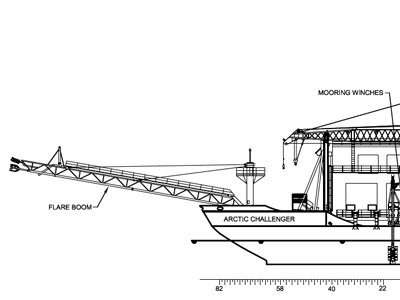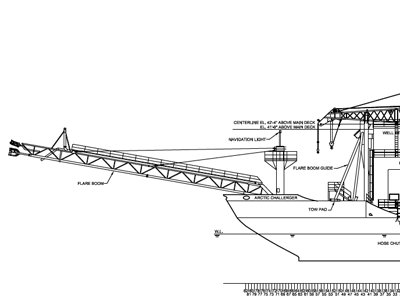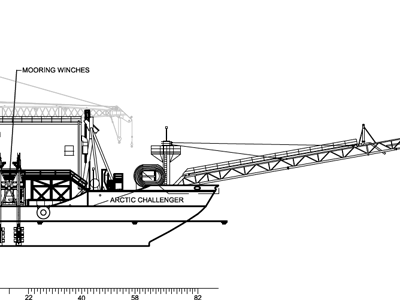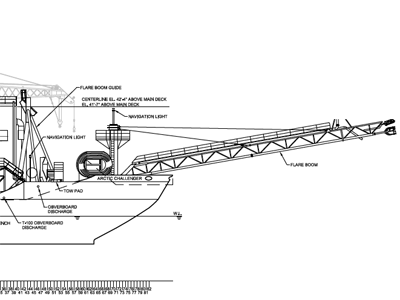 Major features

Living quarters for 72 people
Power plant with 4,395 kW capacity
Diesel storage
Processing units APCO1 and APCO2 to process oil/gas/seawater mix flowing from inland wells
Mooring capacity of 8 anchors designed to keep barge in position for offshore docking

Generalized Inventory List

Barge hull / dry dock
Mooring winches (each with 1200 feet capacity)

One (1) electric 100-ton double drum mooring/emergency storm anchor with auto spooling
Three (3) electric 100-ton double drum mooring winches with auto spooling
Four (4) deck mounted local control stands with tarpaulins
One (1) central control panel and display
Four (4) variable frequency drive cabinets with resister banks
One (1) PLC cabinet with transport top frame and rigging
Eight (8) fixed upper turn down sheaves with gypsy wheel chain winch
Eight (8) sliding swivel fairleads with mechanical locking
Four (4) winch integrated double electro hydraulic power units
Eight (8) chafe chains

Accommodations & services

Modules to serve as live/work quarters for 72 people
Twenty one (21) modules measuring 10'x40'x8'

Eight (8) sleepers to accommodate 8 people each
Two (2) sleepers to accommodate 4 people each
Two (2) office/conference rooms
Two (2) office/control rooms
Galley
Diner
Cold Food Storage
Laundry
Repair shop
Service module
Emergency generator

Diesel Generators

Two (2) ABS-certified Caterpillar C32 diesel engine driven generators rated at 940 KW each
Three (3) Caterpillar C27 diesel engine driven generators rated at 725 KW each
Diesel fuel day tank
480 VAC Switchgear
Transformers
480 VAC MCC 100
480 VAC MCC 200
480 VAC power distribution panel
Sparrows Cranes

EC1000 with CAT C15 engine, 403 KW @ 2,100 rpm – 160,600 lbs. capacity
EC65 with CAT C6.6 engine, 168 KW @ 2,100 rpm – 6,350 lbs. capacity

ROV (Remote Operated Vehicle)

Manufacturer: SMD Hydrovision Limited
YOM: 2011
Certified for operating temp of -10*C – 45*C
Depth rating: 3000m
200 HP, 250kg payload
Four (4) Curvetech HTE 380BA-45 Horizontal thrusters
Four (4) Curvetech HTE 380BA-32 Vertical thrusters
Onboard imaging equipment:

One (1) Schilling Titan 4 7F Manipulator
One (1) Schilling Ringmaster 5F Manipulator
Two (2) Subatlantic pan and tilts
One (1) Bowtech Surveyor Color Zoom
One (1) Bowtech Explorer Extreme
One (1) Bowtech LLC 600 Mini Mono
One (1) Bowtech L3C Mini Color

Sensors

One (1) Tritech Seaking Sonar
One (1) Tritech PA500 Altimeter and Digiquartz bathy
One (1) CDL TOGS NAV Gyro, DVL INS

Containment Dome & Intervention System

Six (6) Timberland reels with hoses: one (1) dome umbilical / five (5) dome hoses
Mezzanine located hydraulic power units for dome and reels operation
Chemical injection tanks and pumps
Mezzanine located high pressure choke manifold – to receive mix directly from well, reduce pressure and send to process module

Process Heater & Process (including flare boom)

Vessels are typical 2 or 3-phase horizontal separators with appropriate internal baffles
Light crude oil case
Maximum oil rate: 25,000 BDP
Maximum produced water rate: 5,000 BDP
Gas rate: 15 MMSCFD

Air Compressors

Seven (7) rotary screw air compressors G 132-100 WP
One (1) rotary screw air compressor GA 22

Modules Fabrication, Assembly, & Installation