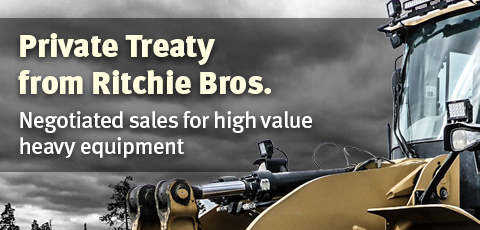 Buy equipment through private treaty
Ritchie Bros. facilitates private treaty negotiations for a wide variety of specialized and high-value heavy equipment and industrial assets.
Buying is easy: just contact us to arrange an inspection and make an offer. We will handle confidential negotiations between you and the seller, and manage the settlement of transactions.
Sell equipment by private treaty
As your private sales agent, Ritchie Bros. will leverage its global customer base and extensive heavy industry knowledge to conduct a negotiated sale of your specialized and high-value equipment items.
Work with a trusted partner
As a global leader in equipment sales, with 50+ years of experience, only Ritchie Bros. has the knowledge, connections and expertise to sell your valuable assets. We will take care of the entire process for you, from finding buyers to closing the sale.
Reach the right buyers
Finding a qualified buyer for high value equipment can feel like finding a needle in a haystack. That's where Ritchie Bros. comes in. Our team of sales and marketing professionals knows how to identify and target the most qualified buyers for your assets—wherever they are in the world.
Sell on your terms
We will market your equipment to a global audience and target buyers ready to meet your terms. You set the price and the completion timeline. We'll bring you the buyers with the best offers.
Question?
Please email customer service for answers, including help with online registration, bidding, deposits and payments.
Ritchie Bros. — where the world buys and sells heavy equipment
Ritchie Bros. is a global leader in asset management and disposition, and the world's largest industrial auctioneer. We help thousands of people around the world appraise, sell, inspect, buy, refurbish, ship and finance heavy equipment and trucks every month. With our multiple selling platforms and commitment to first-class customer service, Ritchie Bros. is trusted worldwide because we make buying and selling easy, efficient, fair, and transparent.