Ritchie Bros. Auctioneers officially announces plans to hold its first China auction in Spring 2013.
The world's largest industrial auctioneer is now approved as a Wholly Owned Foreign Enterprise by the government of China – the first auction company to ever achieve this status – and is preparing to hold its first unreserved public auction at the Beijing Tianzhu Free Trade Zone: bringing the world to China
SHANGHAI, CHINA (November 28, 2012) – Ritchie Bros. Auctioneers (NYSE and TSX: RBA), the world's largest auctioneer of heavy equipment and trucks, announced today during a press conference at bauma China 2012 that it will be holding its first unreserved public auction in China during Spring 2013. Although relatively new to the Chinese heavy equipment market, unreserved industrial auctions have been a quick and easy method for equipment buyers and sellers to conduct business on a global scale. And for more than 50 years now, the Canada-based Company has been helping the world's builders to easily and confidently exchange equipment at its auction sites all over the world. Today, Ritchie Bros. announced that it will bring the certainty of unreserved auctions to Chinese equipment buyers and sellers now that the Company's Wholly Owned Foreign Enterprise application has been approved by the Chinese government – making it the first foreign auction company to receive this approval.
Read the complete news release
Ritchie Bros.' road to first auction in China in 2013
ANNOUNCEMENT DATE: November 28, 2012
ANNOUNCEMENT LOCATION: bauma China — the International Trade Fair for construction machinery, building material machines, construction vehicles and equipment (Shanghai New International Expo Center — booth W5.552)
Ritchie Bros.' road to its first auction in China: Timeline
1958: Ritchie Bros. Auctioneers is established in British Columbia, Canada
1970: Ritchie Bros. holds its first auction outside Canada and enters the U.S. market with an auction in Beaverton, Oregon
1987: Ritchie Bros. enters the European market with auctions in Liverpool, UK and Rotterdam, NDL
1990: Ritchie Bros. enters the Australian market with an auction in Perth
1994: Ritchie Bros. enters the Asian market with its first auction in the Philippines (in Subic Bay) and in Singapore during the Asia-Pacific Petroleum Conference
1995: Ritchie Bros. holds its first auction in Mexico
2003: Ritchie Bros. holds an auction in South Africa
2004: Ritchie Bros. China Chief Representative Chris Edwards establishes office in Beijing
2005-2011: Works with Chinese companies to export surplus equipment to international auction sites
2012: Government approves Ritchie Bros.' Wholly Owned Foreign Enterprise (WOFE) application and officially opens its doors for business during bauma China
Spring 2013 Ritchie Bros. to conduct its first unreserved public auction on formally leased land in the Tianzhu Free Trade Zone, Shunyi, Beijing
Video
A video about our announcement at bauma China on November 28, 2012
Media Contact
Can't find what you're looking for? Contact us for more information or to request an interview with a Ritchie Bros. staff member:
Kim Schulz
Manager, Corporate Communications
Photos
Click on each thumbnail to download high-resolution photos to go along with your story:
Aerial of Ritchie Bros.' permanent auction site in Houston, TX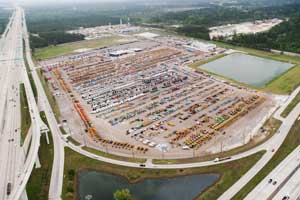 Ritchie Bros. Auctioneers customer places a bid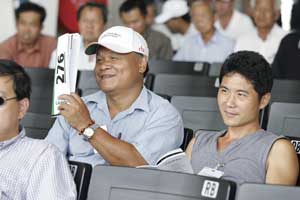 Ritchie Bros. Auctioneers inspects a line-up of rock trucks in Singapore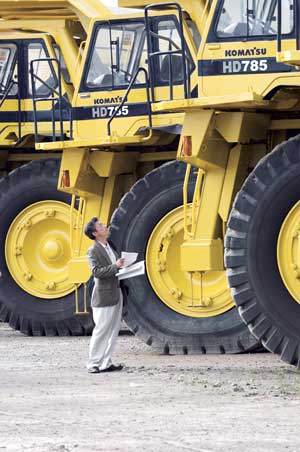 The Ritchie Bros. ramp-and-stage method in Orlando, FL