Ground Level Land Corp.
Property Summary
1 Parcel of Industrial Real Estate:
3.91± Title Acres
East of Grande Prairie on Hwy 43
AB/County of Grande Prairie
Property Details
This development features large commercial/ industrial lots along Highway 43 connecting Grande Prairie to Edmonton, allowing for excellent visibility. With its prime location across from Ritchie Bros Auctions and less than a 10 minute drive from Grande Prairie, Hawker Business Park provides the best in location and accessibility.
Auction Information
This real estate will be sold on April 12, 2017 by unreserved public auction at the Ritchie Bros. Grande Prairie, AB auction site. Every lot will be sold to the highest bidder on auction day, regardless of price.
Directions
Directions to property
From Grande Prairie, AB go 9.6 km (6 miles) East on Hwy 43. Property on North side. Paved access from Range Rd 51 or 52.
Civic Address: 6-722040 Range Rd 51
Directions to Grande Prairie Auction Site:
721076 Range Rd 51, County of Grande Prairie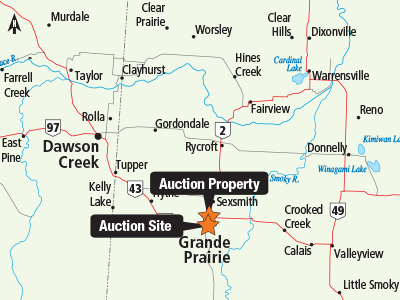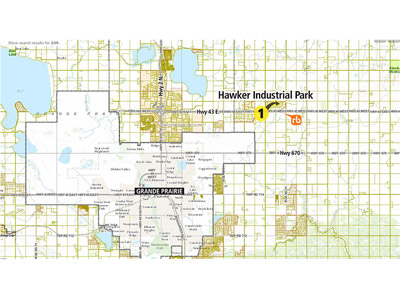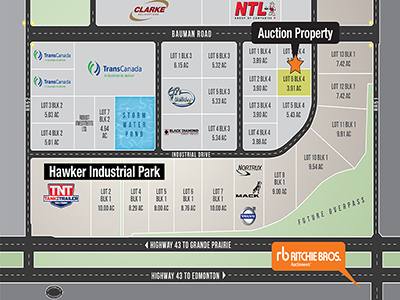 AB/County of Grande Prairie
Lot 6, Block 4, Plan 1524985 – 3.91± Title Acres - Undeveloped Industrial Lot
c/w: RM-2 (Industrial) zoning, underground 3 phase power, TELUS fiber optic internet, city water, natural gas, paved service road, taxes TBA
Contact Information
Ground Level Land Corp.

Rick Wallan

All Peace Realty (Realtor)
Open house information
Property may be viewed without an appointment.