Clear Hills County, AB - Rock N Skull Ranch Ltd.
Property Summary
Grazing Lease No. 16204
2588± Acres
Northeast of Fairview
AB/Clear Hills County
Auction Information
This real estate will be sold on April 12, 2017 by unreserved public auction at the Ritchie Bros. Grande Prairie, AB auction site. Every lot will be sold to the highest bidder on auction day, regardless of price.
Directions
Directions to property:
From Fairview, AB go 11 km (7 miles) East on Hwy 2 to Range Rd 22, the 9.5 km (6 miles) North.
Directions to auction site:
Grande Prairie site – 721076 Range Rd 51, County of Grande Prairie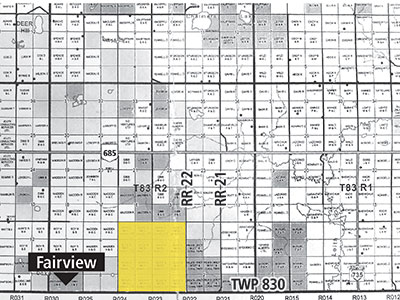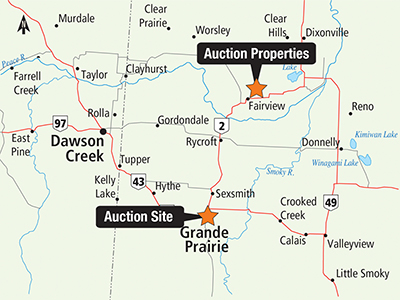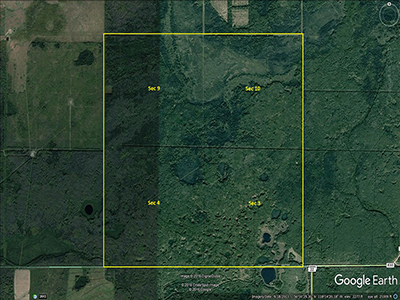 AB/Clear Hills County
GRL No. 16204 – 2588± Acres – Grazing Lease
Sec 3-83-2-W6,
Sec 4-83-2-W6,
Sec 9-83-2-W6,
Sec 10-83-2-W6,
c/w: 308 AUMs, (3) wire perimeter fence, cross fenced, corrals, (6) dugouts, numerous cutlines, 400 +/- ac cut & piled, lease exp. July 31, 2017, taxes $358.66
*Important Note: Grazing lease transfer fees are the responsibility of the purchaser.
Contact Information
Leroy & Joyce Peats

(Owner)

Rod Thibeault

(Ritchie Bros.)
Broker: Rick Wallan

(All Peace Realty)
Open House Information
Property may be viewed without an appointment.