Sell your assets with Ritchie Bros.
Have you started tax planning and budgeting for 2020?
Heading into the End of the Financial Year, buyers will be looking to minimize their taxes through purchasing assets for their business. Make the most of this opportunity by selling your assets when they are worth the most in the market.
Talk to us – used equipment specialists
Our customers know us as trusted industry experts when it comes to used equipment. Whether you're looking to sell, buy, or hold, you can rely on our independent advice for your business planning decisions. For market advice on what to sell, and what to hold, talk to a Ritchie Bros. representative today and get a free valuation for your assets.
Ready to get started? Call us at 1300 139 344 or complete the form and we'll be in touch.
*The information collected will be retained in accordance with our privacy statement.
Upcoming Auctions
Ritchie Bros. will be conducting multiple auctions to give you every opportunity to make the most of this increased demand period, running a comprehensive marketing program to attract buyers from all over the world.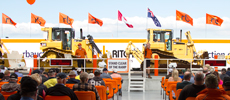 Geelong June 27
Geelong will anchor our auction season and will be the last opportunity for buyers to take advantage of year-end tax planning.
Questions your business needs to consider before the End of Financial Year:
Are you looking to grow your business next year or consolidate?
Have you considered the value of your fleet and what you should be replacing to get full value for your business?
Does your tax planning include possible purchases or sales of machinery?
Is now a good time to look at taking on more or reducing your debt structure?
Are your machinery rental expenses higher in the coming year or should you be buying rather than renting?
Are your repair and maintenance costs creeping higher because of an aging fleet – should replacement be an option to consider?
Interested in selling?
Call us or we can contact you for a free, no-obligation consultation.
Terms & Conditions:
Valuations are a guide only and are based on past market sales data at Ritchie Bros. Auctioneers live auctions.
This offer is subject to the assets being consigned to Ritchie Bros. Auctioneers or Marketplace-E.
Ritchie Bros. is not liable for any data provided in this offer.
Ritchie Bros. reserves the right to cease this offer at any time.