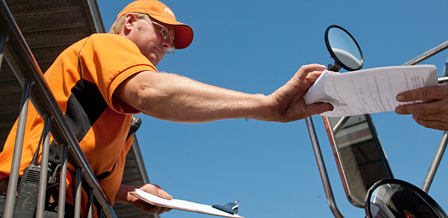 We've partnered with uShip to help customers selling equipment at our auctions in Canada and the United States save time and money with online shipping quotes.
Requesting Shipping Quotes Through uShip is Easy
Input information about the item(s) you need shipped. Note: for many items, you only need to input the make, model and equipment type. Details about the height, weight and dimensions will be imported directly from RitchieSpecs (Ritchie Bros.' equipment specification database).
Upload any photos or details that would help companies provide accurate quotes.
Provide origin and destination (i.e. the auction site) details.
Note: you can get quotes for ground transportation to any auction site in Canada, the U.S., Europe and Australia and Canada.
Submit a request for a quote and receive competitive bids from some of the thousands of feedback-rated transportation companies that are registered with uShip.
Review your quotes – and then choose the one that's right for you.
Submitting a request for quotes is free of charge and there is no obligation. You pay the transportation company directly when the job has been completed and the equipment has safely arrived at the auction site.