ONLINE BIDDING: HOW TO REGISTER TO BID
Once you've signed up for an account and activated online bidding you can register to bid in upcoming auctions. Haven't signed up yet? Create an account now.
1.
Sign in and click Register to get started
Sign in to your rbauction.com member account with your email address and password.
Go to Home or Auctions and click the Register button on the auction calendar. Or click on the Register button under a specific auction if you want to register for that auction.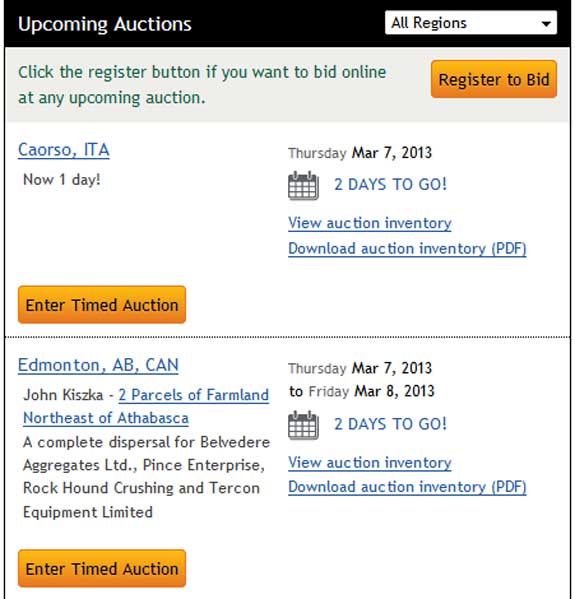 2.
Select the auctions you want to register for
Click in the check box next to the auctions you want to register to bid online at. You can select one or more auctions in this step.
The auctions you've selected will appear in the "Selected auctions" box. Made a mistake? Click the Remove button. When you're finished making your selections, click Continue.
If you have multiple accounts, you can select which account you want to register with in the next step.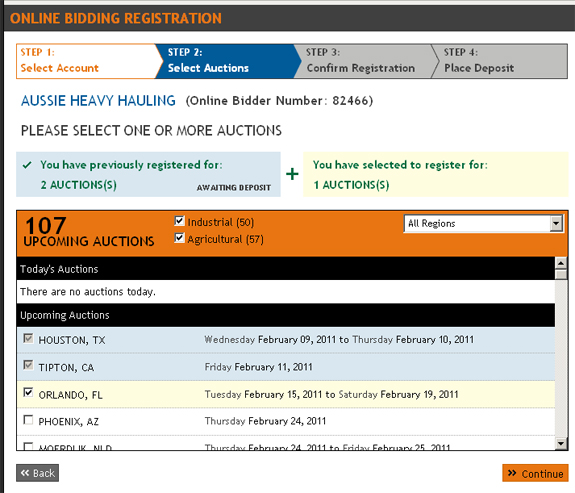 3.
Confirm or change your account details
Review your account details. Your online bidding limit is the maximum amount you can spend at our auctions with that account. Your available bidding limit represents your online bidding limit less any outstanding purchases. If you're required to submit a bid deposit, your available bidding limit will show as zero until your deposit is paid.
Review the auctions you're registering for. We'll use the contact phone number listed here if we need to reach you during the auction. You can change it now if necessary.
Now review your account details. If you have more than one account, your registrations will be automatically linked to your main account. If you want to bid with a different account, click Register another account for this auction. A pop-up window will appear. Select a different account in the pop-up and click Add. You can now click Remove Account to cancel a registration.
When you're finished, click Continue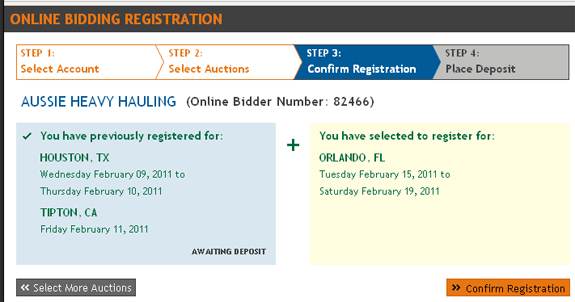 4.
Choose your bidding limit and deposit
Most online bidders have to place a refundable deposit before they bid. You'll have a separate bidding limit and deposit requirement for each account.
Select your desired bidding limit from the dropdown menu – that is, the total amount you expect to spend at all of the auctions you're registering for with that account. You can select an amount up to your maximum online bidding limit for that account.
If you expect to spend more than your online bidding limit, click Increase your bidding limit. Your request will be submitted to our customer service group for approval.
Your deposit is then calculated automatically. The higher your desired bidding limit, the higher your required deposit.
After selecting your desired online bidding limit for each account, click Continue.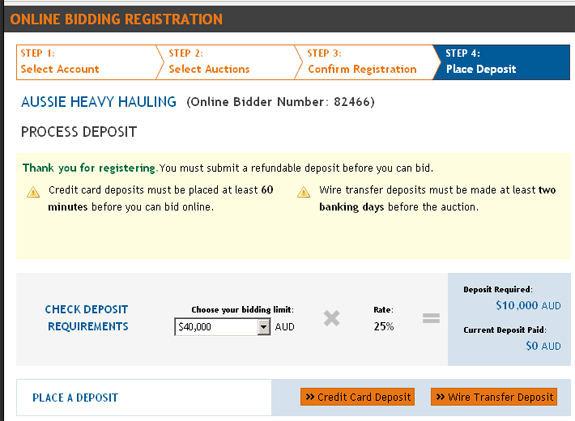 5.
Finalize your registrations
A summary of your required deposits appears on the next screen. Bid deposits can be made by Visa or MasterCard or by wire transfer.
Your registration will not be approved until your refundable bid deposit is received by Ritchie Bros. Your deposit must be received at least 48 hours before the auction.
Read the terms and conditions carefully, then click Confirm to finalize your registrations.
6.
Review your registrations
When you're done, the words "Pending – Awaiting Deposit" will appear next to each auction you registered for in the Registrations section of your account. Once your deposit has been processed, the word "Approved" will appear.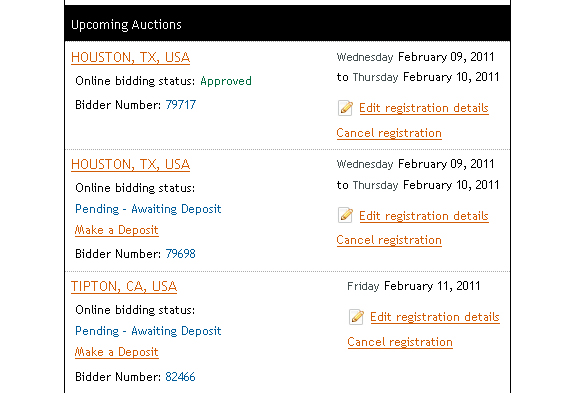 7.
Check your email and submit your refundable bid deposit
Make sure you check your email! We'll send you a confirmation email with instructions on how to place your bid deposit, either by wire transfer or credit card. You can use our Online Payment Service to submit your bid deposit by Visa or MasterCard.
You're now ready to bid on auction day! Before you bid, make sure you read the Terms & Conditions of bidding. Find out how to bid online in real time.