When the state economy took a downturn, John Spadaro needed to sell millions of dollars of equipment belonging to his trucking company in Melbourne, Australia.
John decided to check out a new auction company in town: Ritchie Bros. Auctioneers. And he's never looked back.
When you've got that kind of relationship, why would you deal with another auction company?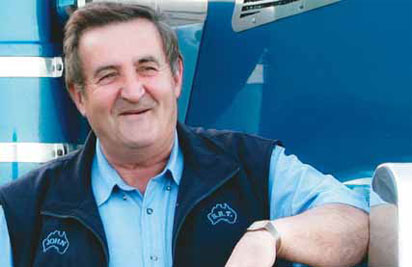 John Spadaro grew up in the farming town of Shepparton in Victoria, Australia. He was a farmer himself for a long time – but a dream of starting his own trucking company took him to the state capital of Melbourne in the mid-1980s. MBS Express opened its first truck depot in 1986.
"We didn't start with much, and we had our ups and downs, but we worked very hard to make it work," says John. "It wasn't always as smooth as bitumen."
By 2001, MBS Express was delivering goods all over Australia. The company had depots in Melbourne and Shepparton, 125 employees, 72 prime movers (truck tractors) and 158 trailers. Petrol (gas) was running between 60 and 80 cents a litre. The economy was doing well.
"When the economy took a downturn, we had to downsize," says John. "We couldn't run efficiently anymore. And now that petrol is getting close to two dollars a litre, it's not any easier."
John needed to sell several million dollars worth of prime movers and trailers. He'd heard of a new auction company in town – Ritchie Bros. Auctioneers – and decided to check out their next Melbourne auction. He was more than impressed.
"I go to a lot of auctions – perhaps one a month, all over Australia," says John. "But I'd never been to one like this. It was professional, the gear was presented well, it was unreserved, there was no nonsense. You go to other auctions and there are maybe one hundred people. You go to a Ritchie Bros. auction and there are two thousand. What does that tell you?"
But the thing that impressed him most was the service. "I've never been treated so well, with such courtesy and respect," he says. "After I signed the first deal, Dave Ritchie himself took the time to call me and thank me for giving Ritchie Bros. the opportunity to sell my equipment. He didn't have to do that – but he did. From the first moment on, the service I've received from everyone at Ritchie Bros. has been excellent."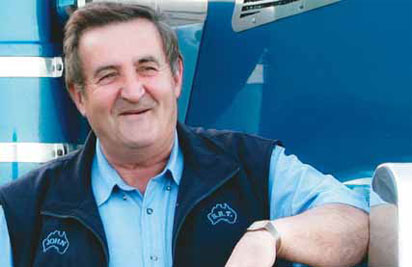 John admits that he endured "a few sleepless nights" before that first auction. "I'd never sold unreserved before, and I had more than four million dollars of gear in the sale," he recalls. "But it was very, very successful. Now I've done it many times and I don't worry. I have confidence in Ritchie Bros."
Over the past six years, John has sold four multi-million dollar transportation packages through Ritchie Bros., enabling him to manage his fleet turnover more efficiently. "Now we can buy new equipment and run it for a few years, then sell it at a Ritchie Bros. auction," he explains. "Unreserved is the only way to go. I know the gear's going to sell and the people who are there to buy know it's going to sell. Ritchie Bros. does right by buyers and sellers."
Today, John is settled back in Shepparton with his wife. His children – and now grandchildren – live close by. But whenever he's in Brisbane or Melbourne, he makes a point of stopping by the Ritchie Bros. auction site – and he often receives visits from Ritchie Bros. staff in return. "The boys drop in when they're in town, say hello, have a coffee. We talk as true friends; it's not just business," says John. "When you've got that kind of relationship, why would you deal with another auction company?"
Written and published: 2008