Hugh Edeleanu grew H.E. SERVICES from just one used loader backhoe into the largest specialist excavator hire company in the U.K., with a fleet of 2,500 machines.
When the market turned, Hugh knew his best option was to sell hundreds of surplus items – and to reach outside the U.K. for buyers.
Selling through Ritchie Bros. is the best way to mitigate risk in a soft market.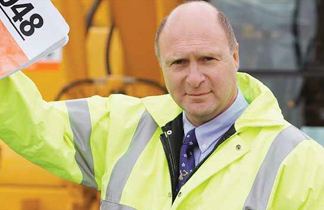 Like most successful business people, Hugh Edeleanu balances careful decisions with calculated risks. In 1972, when he was a student at Cambridge University in the U.K., he bought a used JCB 3 backhoe loader and started his own company: H.E. SERVICES. After graduation, Hugh spent a year working as a professional engineer and running his small rental business as well. "I realized that I couldn't do both," he says. "I had to decide whether I wanted to be an employee or focus on the business full time; I chose to work for myself".
Over the coming years, Hugh built his rental business into the largest specialist excavator hire company in the U.K. – one piece of equipment and one employee at a time. H.E. SERVICES grew to employ several hundred people across 13 locations in the U.K. and Ireland, with about 2,500 pieces of equipment in its rental fleet, including excavators, dump trucks, backhoes, telescopic forklifts and skid steer loaders.
Most pieces in the fleet are less than three years old. Surplus or older equipment is typically sold direct to existing H.E. SERVICES customers or by auction, including some of the earliest Ritchie Bros. auctions in Europe – except the original JCB 3, which sits on a plinth at the company's head office.
"But for the past few years we were growing so much that we needed all the equipment we could buy," says Hugh. "We didn't sell much equipment at all for a long time."
And then Europe started heading into recession.
"In early 2008 we realized that we needed to downsize our fleet by about 20 percent to make it the right size for the current market in the U.K.," says Hugh. Faced with more than 500 pieces of excess equipment, they looked at their options.
"We could see the market softening in some parts of the world but not in others, and we realized that reaching those areas of strength would help bring better prices," says Hugh. "In general we sell direct to end-users or dealers, but obviously we haven't got the kind of global coverage that auction companies have, especially Ritchie Bros.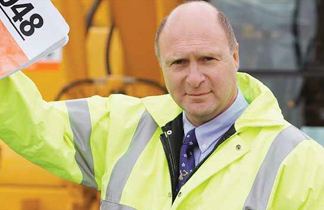 When you're selling 500 machines, you want to be sure that the people you're relying on can deliver results. Well, if Ritchie Bros. can't deliver results, no one can."
In November 2008, H.E. SERVICES sold millions of dollars of surplus equipment at Ritchie Bros. auctions in the Netherlands, Germany and Poland. The Poland auction was the first Ritchie Bros. auction in that country. Hundreds of people from across Europe – even as far away as Australia and the United States – registered to bid on the company's equipment, either in person or over the internet.
"I was impressed with the way the auctions came together," says Hugh. "The advertising was good, the organization was very professional, and the bidders turned out on auction day. Selling through Ritchie Bros. is the best way to mitigate risk in a soft market."
Like many people, Hugh is currently in "wait and see" mode: hoping the economy picks up but staying prepared for harder times ahead. "I hope we can maintain our fleet at its current level," he says, "but if I have surplus equipment to sell in the future, I'll definitely turn to Ritchie Bros."
Written and published: 2008