For Denis and Louis Larabie of Kapuskasing, Ontario, a fortuitous wrong turn led to a major trucking contract with the De Beers diamond company.
At the end of the contract, the Larabie brothers had almost 150 trucks and trailers to sell – and a new appreciation for unreserved auctions.
Go to Ritchie Bros.: that's my advice to anyone wanting to sell trucks and trailers.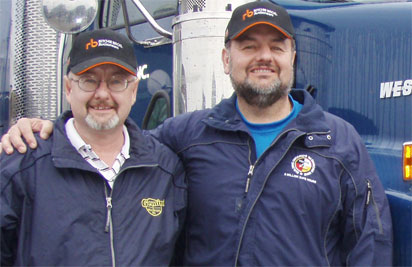 In 2005, Denis Larabie made a wrong turn in an Ontario office building – and found himself at the door of De Beers, the world's leading diamond company.
"I knew De Beers was doing something up north," says Denis. "I saw someone going into the office, so I introduced myself and said: do you have any work for trucking companies? He said: well, yes – we do."
As luck – or fate – would have it, Denis was directed to the construction manager and redirected to the logistics manager responsible for Ontario's first diamond mine: the Victor Mine on the James Bay coast.
Born and raised in Kapuskasing, a forestry community in Northern Ontario, Denis had spent most of his adult life operating a load and haul trucking company, buying the occasional truck from Ritchie Bros. auctions. His brother Louis had worked for the local school board for 24 years. Together they decided to bid on the contract for transporting everything needed to build the Victor Mine up to the remote site, which was only accessible by air and a winter road.
"I'd never bid on a large contract like that before," says Denis. "But the forestry industry was going sour and I was looking to diversify. So I brought Louis on board. I know trucking; he knows numbers. We make a good team."
Denis and Louis initially purchased 28 truck tractors and 40 trailers for the contract, increasing their fleet to 69 trucks and 175 trailers when De Beers accelerated the construction schedule. They bought most equipment new. "I think we emptied the flatbed market in Ontario!" laughs Louis. Over three years, Larabie Trucking transported 3,750 loads to the mine site in a window of 32 to 40 days every winter.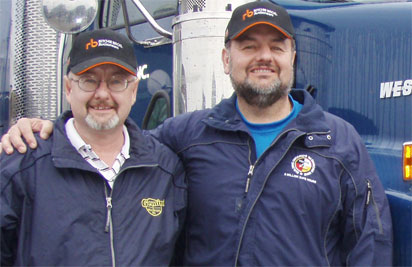 In February 2008, as the final loads were being delivered, the Larabie brothers started considering options for selling their large fleet of specialized transportation equipment.
"Making the decision to use Ritchie Bros. was easy," says Louis. "They offered good terms, they could handle all the equipment, and they could sell it all in one day. We could close our books and move on." But it was the attitude of the Ritchie Bros. staff that sealed the deal. "Their enthusiasm and integrity made all the difference," he says. "They were straightforward, honest, passionate."
In May 2008, Ritchie Bros. sold the Larabies' entire truck and trailer fleet at an unreserved auction in Toronto, along with more than 2,100 other equipment items, from skid steer loaders to excavators. "I felt like a kid in a candy store," says Louis. "There was so much equipment, for so many industries." The auction attracted more than 2,800 registered bidders from 29 countries – and opened the brothers' eyes to a world of new business opportunities.
"We realized that we could be more competitive in the future by using Ritchie Bros. auctions to buy and sell equipment," says Denis. "You can buy good quality used equipment at the auction when you start a project – whatever you need – and sell it back at the auction when the contract is over. It's clean and simple and you know the market sets the prices. Ritchie Bros. auctions are an excellent business tool." Adds Louis: "Go to Ritchie Bros.: that's my advice to anyone wanting to sell trucks and trailers."
Written and published: 2008