Brad Skelton got his international freight forwarding business off the ground in Australia with a little help from a Ritchie Bros. auction in Hong Kong.
During a major business realignment, Brad put his trust in the same company that had put its trust in him.
We don't do anything by halves; when we do something we do it well, and I know that's the Ritchie Bros. attitude as well.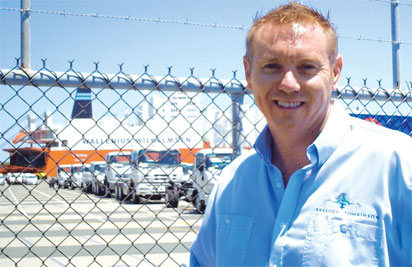 In 1995, at the age of 28, Brad Skelton took a huge gamble: he quit his day job and – with just AU$2,000 (US$1,300) – started his own freight forwarding company in Brisbane, Australia. Back then, Skelton Tomkinson was just Brad and his secretary. "I'd use one credit card to pay another so I could make payroll," he recalls. "Or I'd move an excavator and use the profit to buy office furniture. It was an extremely humble beginning."
The turning point came in early 1996 when Skelton Tomkinson was invited to a US$9 million (AU$14 million) unreserved Ritchie Bros. auction in Hong Kong. As a former customs broker, Brad was a familiar face at Ritchie Bros. auctions around the world. "The guys had seen how I handled myself at other sales," says Brad. "Dave Ritchie in particular had enormous faith in me. He'd recommend my services to buyers in Hong Kong because he knew I could do the job and that I'd look after his customers the right way."
Skelton Tomkinson handled virtually all of the shipping from the Hong Kong auction, loading dozens of rock trucks and other heavy equipment onto barges and then ships destined for ports worldwide. "That auction got me on my feet financially," says Brad. "I've always felt tremendous gratitude towards Ritchie Bros. for trusting me when I was just starting out."
Fast forward to 2008: Brad's humble startup now has offices in five countries, 100 employees and annual revenues over AU$100 million (US$66 million). The ST Group now includes heavy haulage and crane divisions. But they are capital intense and offer lower returns compared to the freight forwarding side of the business; Brad makes the tough decision to sell his entire crane and truck fleet and reinvest the unlocked capital in his international shipping business.
Faced with a hot market, Brad knew he could easily sell the fleet piecemeal. But instead he turned to Ritchie Bros. "The market dynamics at the time were really favorable," he says. "But I knew I could get everything sold over a couple of days and really pull in a global audience if I sold through Ritchie Bros. The deal made sense on its own but the decision was made easier because of the support I'd had from Ritchie Bros. in Hong Kong and the business relationship we had."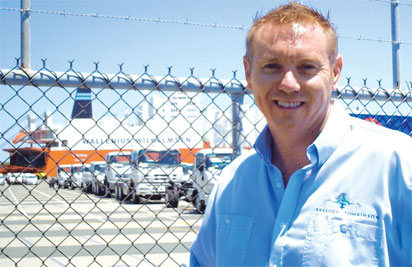 That relationship, says Brad, is based on trust and professionalism. "There's a good core value alignment between Ritchie Bros. and my company," he says. "We don't do anything by halves; when we do something we do it well, and I know that's the Ritchie Bros. attitude as well. Working together was easy because everyone did exactly what they said they would do."
In June 2008, Ritchie Bros. sold more than 150 late model cranes, trucks and trailers from the Skelton fleet during an AU$55 million (US$52 million) Brisbane auction that attracted almost 1,800 bidders from 17 countries. Several items fetched more than AU$1 million (US$1 million).
"I'm certain Ritchie Bros. helped us achieve a bit of a premium through its marketing reach and reputation," says Brad. "A lot of people thought I was taking an enormous risk going to an unreserved auction but I was extremely comfortable with the decision I'd made. The market was strong, the inquiries were there; everything pointed towards a successful outcome. The auction was a lot of fun."
Since then, Skelton Tomkinson has expanded its terminal operations and opened an office in Japan; Brad is looking forward to establishing a presence in Dubai in early 2009 and further global expansion beyond that.
"A lot of the biggest and most respected names in the industry trust us to move their equipment around the world, including Ritchie Bros.," says Brad. "They know they can rely on us and get good honest service at a fair price. Going from nothing to being the world's largest international freight forwarder of heavy equipment took a lot of
persistence and a lot of faith. It's been a wild ride."
Written and published: 2008