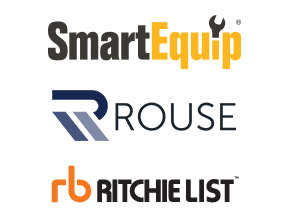 In 2021, Ritchie Bros. took definitive steps towards helping customers through all stages of the used equipment lifecycle, as well as providing even more selling options. Ritchie Bros. acquired SmartEquip, a leader parts procurement service, and Rouse Services, which provides the gold standard of accurate and reliable market data and appraisal services. Ritchie Bros. also launched Ritchie List, a listing service where buyers and sellers can transact in the private marketplace in a safe and convenient way.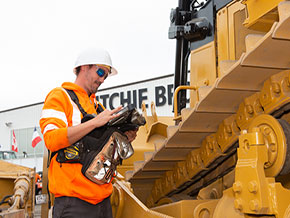 Early in 2020 Ritchie Bros. launches two new service brands for its customers: Ritchie Bros. Inspection Services and Ritchie bros. Appraisal Services. In mid-March, due to COVID-19, the company moves its auctions 100% online and experiences record demand. In the fall acquired Rouse Services, a leading provider of data intelligence and performance benchmarking solutions, and launched Ritchie Bros. Asset Valuator, a quick and easy pricing research tool for customers.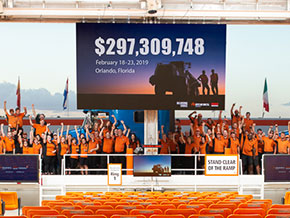 In February 2019, Ritchie Bros. held the largest equipment auction ever in Orlando, FL, selling US$297+ million of equipment and trucks in six days. Later in the fall the company introduced PriorityBid functionality for its live auctions, allowing interested bidders to place bids online ahead of the auction. Also, the Marketplace-E solution surpassed US$500 million in sales in 2019.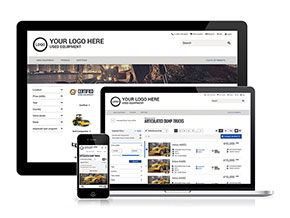 Ritchie Bros. introduces two new solutions to the market: Ritchie Bros. Asset Solutions and Marketplace-E. RB Asset Solutions is an end-to-end asset management system designed to help customers better manage, analyze, and sell assets. Marketplace-E is an additional sales solution offering consignors increased control over the selling price and process through 'Make Offer' and 'Buy Now' selling options.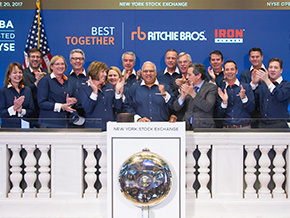 After receiving unconditional clearance from the U.S. Department of Justice, Ritchie Bros. completed its acquisition of IronPlanet on May 31. It was the largest acquisition in company history and began a new era of delivering unprecedented choice to our customers. On June 20, the executive leadership group rang the ceremonial bell at the New York Stock Exchange to celebrate the historic acquisition.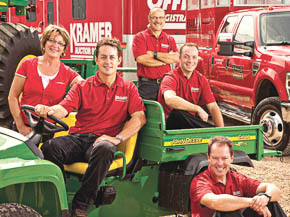 Ritchie Bros. made some significant corporate developments in 2016, including the announcement of its impending acquisition IronPlanet, a leading online marketplace for used heavy equipment. The company also acquired Mascus, one of the world's leading online equipment listing services, as well as the remaining minority interest of Ritchie Bros. Financial Services, providing the company 100% ownership. Ritchie Bros. also acquired Petrowsky Auctioneers and Kramer Auctions to help bolster its auction presence in the New England region of the United States and the Canadian agricultural market.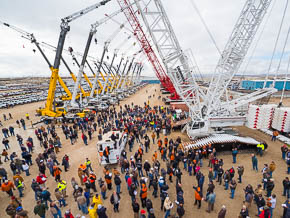 Ritchie Bros. held 345 auctions in 2015, including its largest-ever, single-consignor auction in Casper, WY on March 25, selling US$54 million of cranes, trucks and trailers in one day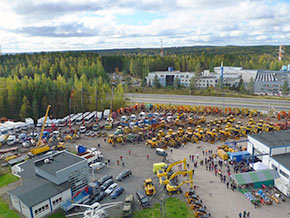 First US$4 billion year
In 2014, Ritchie Bros. launches a new online marketplace at EquipmentOne.com, and sells US$4 billion of equipment in one year for the first time.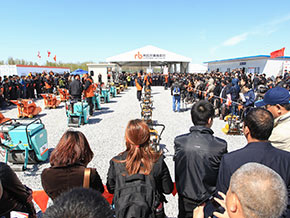 First auctions in China
In 2013, Ritchie Bros. holds its first auction in China, in the city of Beijing.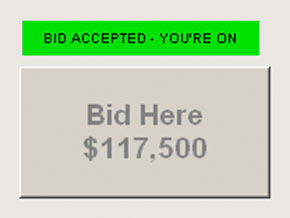 US$1 billion of equipment sold online
Ritchie Bros. sells US$1 billion of equipment to online bidders before year end.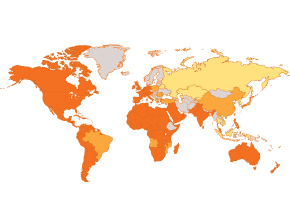 21-language website launched
Ritchie Bros. launches a new website at rbauction.com, featuring equipment search in 21 languages, online bidding in 7 languages and new saved search and watchlist functionality.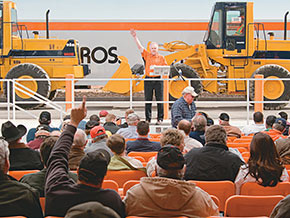 First US$1 billion quarter
Ritchie Bros. sells US$1 billion of equipment in one quarter for the first time in 2008.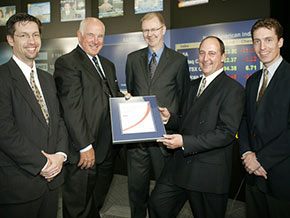 TSX listing
Ritchie Bros. is listed on the Toronto Stock Exchange.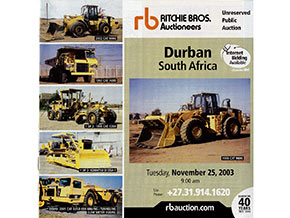 First auction in Africa
Ritchie Bros. holds its first auction in Africa in 2003, in Durban, South Africa.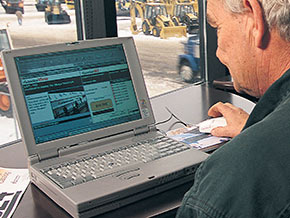 Online bidding service introduced
In 2002 Ritchie Bros. introduces its real-time online bidding service, making it easier for buyers to participate in auctions all over the world - in person or online.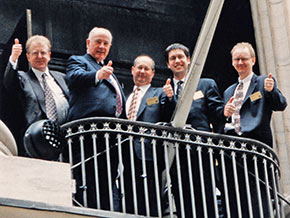 NYSE listing and first US$1 billion year
In 1998 Ritchie Bros. becomes a publicly listed company on the New York Stock Exchange, and records annual equipment sales of US$1 billion for the first time.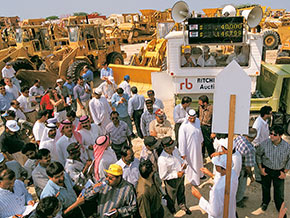 First auction in the Middle East
Ritchie Bros. conducts its first auction in the Middle East in 1997, in Dubai's Jebel Ali Free Zone.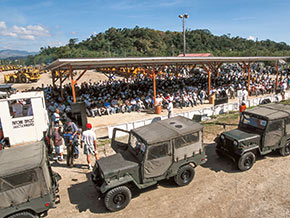 First auction in Asia
In 1994, Ritchie Bros. conducts its first auction in Asia, in Subic Bay, the Philippines.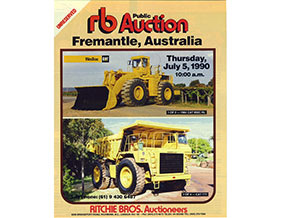 First auction in Australia
Ritchie Bros. goes down under and holds its first Australian auction in Perth, Western Australia in 1990.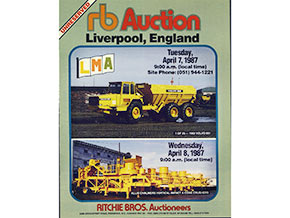 First auctions in Europe
In 1987 Ritchie Bros. conducts its first auctions in Europe - in Liverpool, United Kingdom and in Moerdijk, the Netherlands.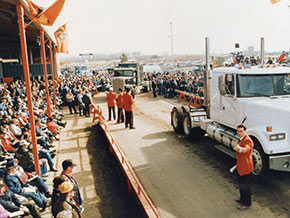 First permanent auction site
With its unreserved auctions well accepted within Canada, Ritchie Bros. opens its first permanent auction site - in Edmonton, Alberta.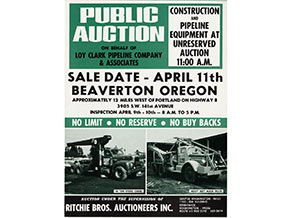 Expansion to the United States
As demand for the company's unreserved auction services increase, Ritchie Bros. begins to expand across Canada and into the United States, holding its first U.S. auction in Beaverton, Oregon in 1970.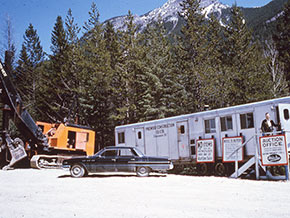 First major equipment auction
The brothers soon progress beyond furniture and begin conducting more regular auctions. In 1963 they conduct their first major unreserved industrial auction in BC, selling US$600,000 worth of equipment.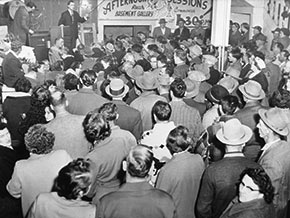 First unreserved auction
Ritchie Bros. begins as a small family-run business in Kelowna, BC, Canada. The three Ritchie brothers—Ken, Dave, John—conduct their first unreserved auction.