Journal Content

Journal Content
60 Years of Defining Our Industry
As Ritchie Bros. celebrates its diamond anniversary, we want to reflect on our company's incredible heritage and 60 years in the auction business, bringing buyers and sellers together from around the globe and across multiple generations. It's a remarkable milestone and we take great pride in serving customers this long as leaders in the heavy equipment auction industry.
Below you'll find some of the stories that define us, and perhaps get a glimpse of where we're headed next.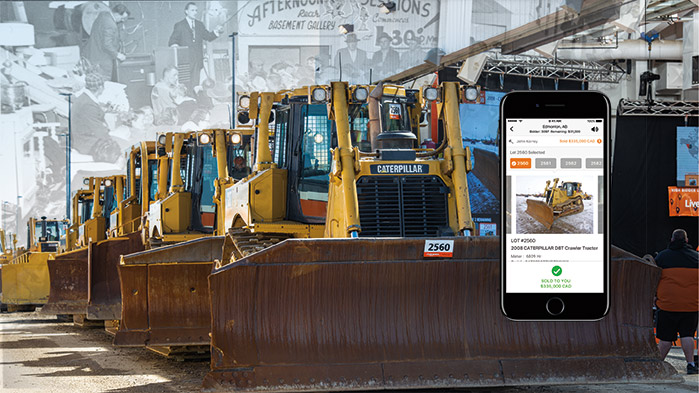 Evolution of the Auction
While the core model of our auctioning - honesty, fairness, high bid always wins – has remained the same, the mechanics and process have evolved dramatically.
Read more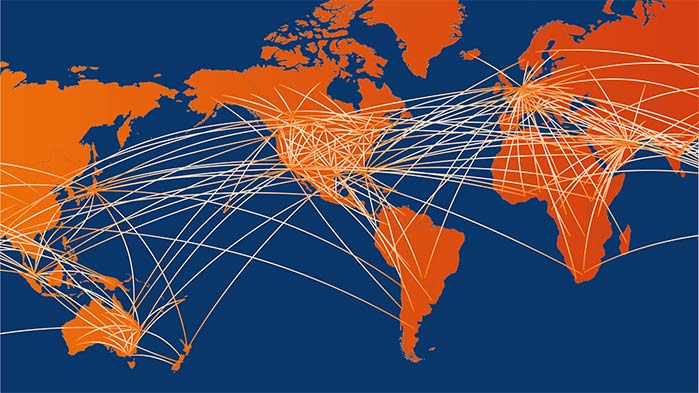 Growth and expansion of Ritchie Bros.
Ritchie Bros. started with a single auction in British Columbia, Canada and has grown into an international business with multiple solutions to meet the many needs of its customers.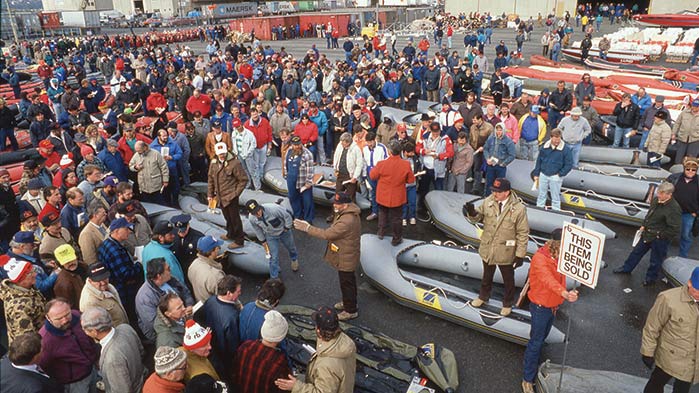 Auctions that made history
From selling equipment used in the Exxon Valdez disaster clean up to dispersing surplus equipment used to rebuild the battle-ravaged Falklands, Ritchie Bros. has seen its share of historical auctions.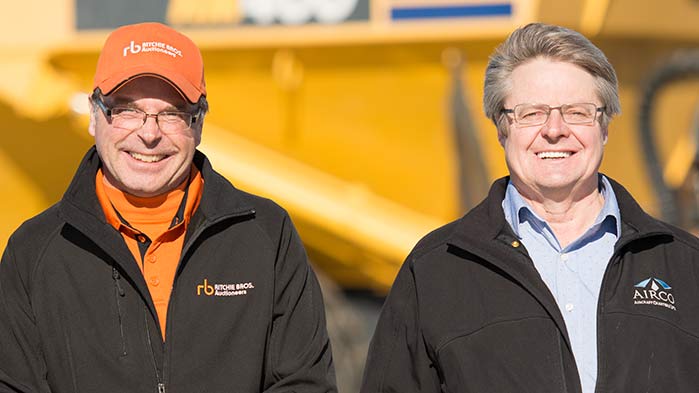 Our gold-star customers
From humble beginnings to a global industry leader, we never lose sight of what got us here – our customers. Hear their stories about Ritchie Bros.
History about Ritchie Bros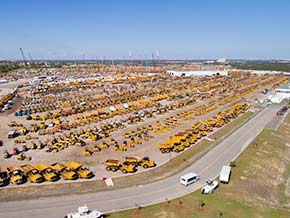 2018
Largest auction ever US$278+ million of equipment & trucks Orlando, FL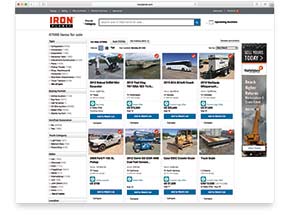 2017
Ritchie Bros. acquires IronPlanet, creating a multi-channel asset management and disposition company.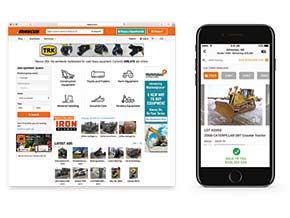 2016
Launch of our mobile app
Acquisition of Mascus adds a listing service to our suite of solutions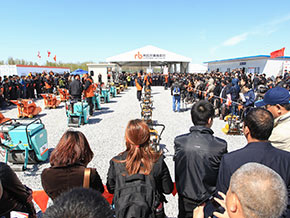 2013
First auction in China – Beijing, China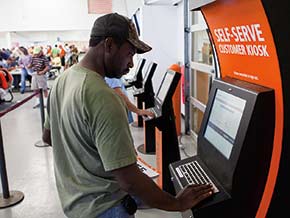 2011
Introduction of Timed Auctions
2006
The Virtual Ramp is created to beat the heat in Dubai but is eventually rolled out to all our auction sites.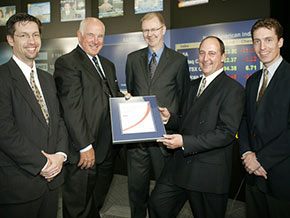 2004
A secondary offering provides the impetus for listing on the Toronto Stock Exchange.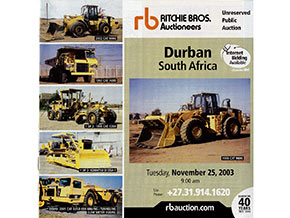 2003
First auction in Africa – Durban, South Africa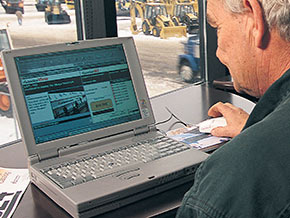 2002
Introduction of real-time online bidding creates increased convenience for our global buyer base.
Acquisition of All Peace Auctions of Grande Prairie, AB puts Ritchie Bros. in the on-the-farm auction business.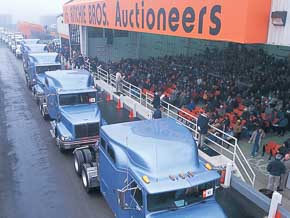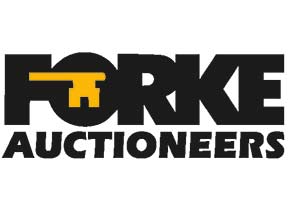 1999
Ritchie Bros. makes its first corporate acquisition: Forke Brothers
First auction broadcast on the Internet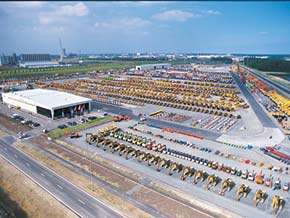 1998
Ritchie Bros. Auctioneers goes public on the New York Stock Exchange. Cash raised from the IPO helps build a network of purpose-built auction facilities.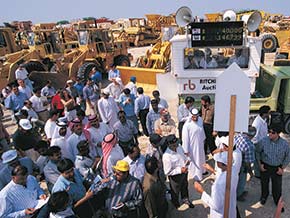 1997
First auction in the Middle East – Dubai, UAE
First auction in Japan – Yokosuka City, Japan
1996
rbauction.com launched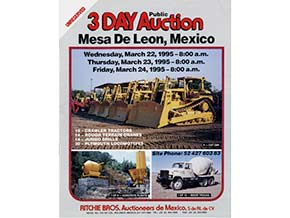 1995
First auction in Mexico – Mexico City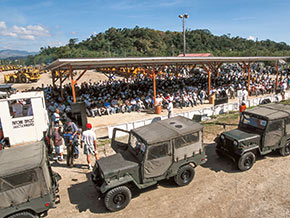 1994
First auction in Asia – Subic Bay, The Phillipines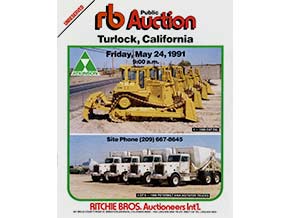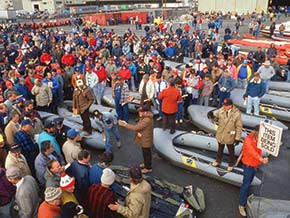 1990
Equipment used in clean up of Exxon Valdez disaster sells over four days, smashing registered bidder records – Anchorage, AK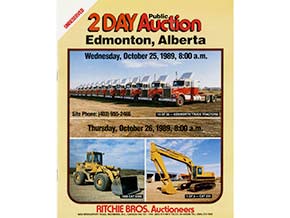 1989
Edmonton, AB auction videoconferenced to the Agricom trade show to allow bidding from the show floor.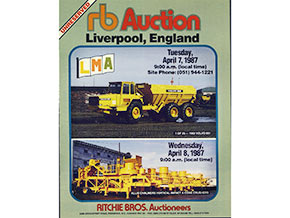 1987
First auction outside of North America. Items sold were used in rebuilding the war-ravaged Falkland Islands – Liverpool, UK.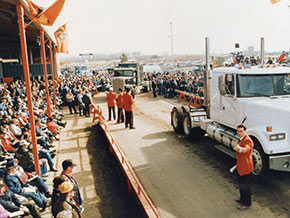 1976
First permanent auction site established – Edmonton, AB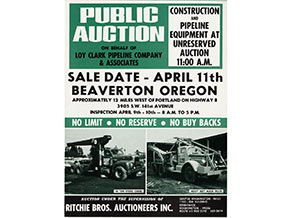 1970
First auction in the USA – Beaverton, OR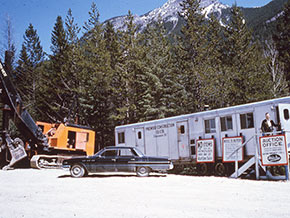 1963
First industrial auction (for Premier Construction Co.) and introduction of the ramp selling method, now a trademark of Ritchie Bros. auctions – Radium Hot Springs, BC.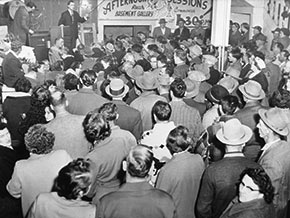 1958
First auction for the Ritchie family furniture store at the scout hall Kelowna, BC, Canada