You only have one chance to sell your farm, so it pays to work with an auction company that delivers more: Ritchie Bros.

Flexible contracts, extensive local and national marketing, full-service professional auctions on your farm—we do it all for you.

We conduct over 100 on-the-farm auctions in Canada each year. Let us help you enter the next phase of your life with peace of mind.
Get More From Your Auction & More For Your Farm
Choose Ritchie Bros. when it's time to sell


Talk to your local representative about selling your farmland and equipment at a Ritchie Bros. auction. Enjoy better service, reach hundreds of on-site and online bidders, and get better returns on auction day.

Full-service, professional auctions on your farm

We'll conduct a full-service, professional Ritchie Bros. auction right on your farm. We take care of everything, so you can relax and plan for the next phase of your life.

Flexible contract options to meet your needs

We work with you to understand your situation and then tailor a contract for your needs, with straight commission, cash guarantee and purchase options.

Extensive marketing to reach the most potential buyers

Enjoy personal service with the benefit of our national customer base and marketing reach. We use print and online advertising and our high-traffic web site to attract local and national buyers to your auction.
Talk to a representative near you about selling your farmland and equipment at an upcoming auction.
Our auction calendar fills up fast. Contact us today and start making plans for tomorrow.
Ritchie Bros. farm auctions
See how we sell real estate at our on-the-farm auctions.

38 sec
Play video
Customer Testimonials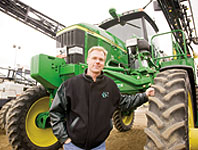 "We've got the best of both worlds now – the global advertising and reach of Ritchie Bros. with the local service from the ag team."
Dean Stockman – Stockman Farms (Beechy, SK)
"Ritchie Bros. has the expertise to handle every aspect of the sale – from the advertising to the auction itself – and they get you broad exposure with their advertising."
Bob Cooke – Jemstar Farms (Walkerton, ON)