Ritchie Bros. is the world's largest industrial auctioneer, selling US$3.7 billion of used and unused equipment for the construction, transportation, agricultural and other industries at 339 unreserved auctions in 2011. We have more than 530,000 customers from over 190 countries and more than 40 auction sites worldwide. Find out more about:
We live to create compelling business solutions that enable the world's builders to easily and confidently exchange equipment.
Ritchie Bros. helps consignors achieve the highest net return on the sale of their equipment and trucks. We do this by attracting large and diverse bidding audiences from around the world, comprised primarily of end users, and allowing them to compete in a transparent and fair bidding environment using a variety of on-site and on-line participation options.

We market the equipment to our extensive customer base (over 530,000 customers from 191 countries)
All equipment is marketed on our industry-leading 21 language web site with high-resolution photos and equipment specifications
Nearly 60% of sales go to buyers from outside the region of the sale
Online bidders are buyer or runner-up bidder on almost 40% of lots offered online
Approximately 75% of sales go to end users of the equipment

By working with Ritchie Bros., an equipment owner is able to access the international market of retail equipment buyers and sell equipment at world fair market prices.
Our commitment to conducting only unreserved auctions and our reputation for honesty and fair dealing
Our ability to transcend local market conditions by attracting large, diverse audiences of mainly end-user bidders from the around the world to our auctions
Our size, financial strength and access to capital; the international scope of our operations; and our marketing skills
Our worldwide network of full-service auction sites, which give confidence to buyers and sellers of equipment
Our ability to reach a wider audience of potential buyers by enhancing our live auctions with real-time internet bidding
Our established market position and depth of auction, appraisal and market development experience
Our dedicated and experienced staff that enables us to successfully enter new markets and establish long-term relationships with customers
The used truck and equipment market is huge

Analysts estimate more than $100 billion in transactions annually

The market is highly fragmented

Ritchie Bros. is the largest player in this space yet has only a small share of the total market

Ritchie Bros. has a long history of growth and innovation and continues to expand its customer base and increase its market share
Ritchie Bros. is focused on adding value for our customers and long-term earnings growth
Grow earnings per share at 15% per year on average over the long term
Achieve a return on invested capital of at least 15% over the long term
Our 3 Strategic Pillars:
Grow our core auction business.

By doing more business with both traditional and new customer groups in existing and new markets
By making our auctions easy

Add new business and information solutions.

By investing in value-added services for our customers
By establishing ourselves as the leading source of knowledge, expertise and information in the used equipment industry

Perform by building an inspired, high-performance and customer-focused team.

By enhancing employee engagement, improving productivity and building deeper management bench strength
Our Success
Every year, Ritchie Bros. captures a larger piece of global used equipment marketplace – as the following chart shows: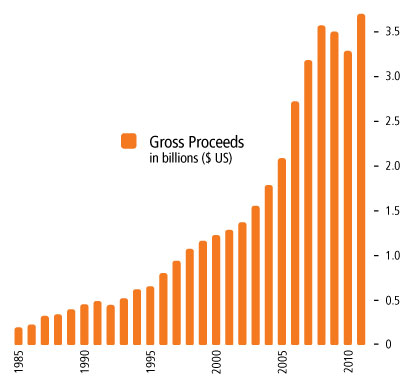 Investor Contact
Ben Chow
Corporate Development Manager
Ritchie Bros. Auctioneers
Investor Mail List
Request a Ritchie Bros. investor kit or join our investor mailing list.
Investor Fact Sheet
Download or print a summary of the information on our Investors site.