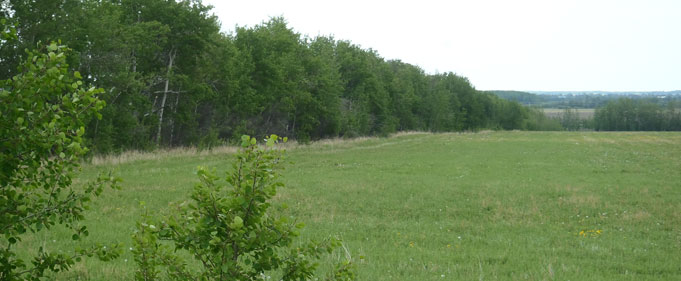 Pearson Farms - Hythe, AB (Northwest of Grande Prairie)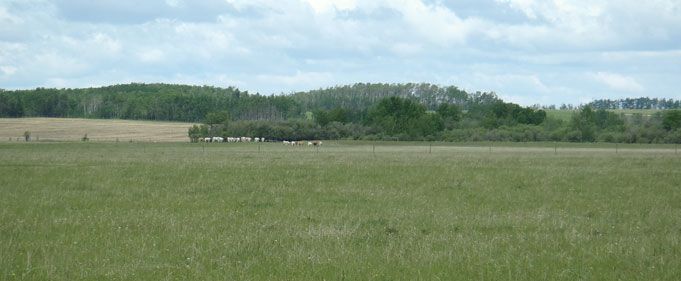 Pearson Farms - Hythe, AB (Northwest of Grande Prairie)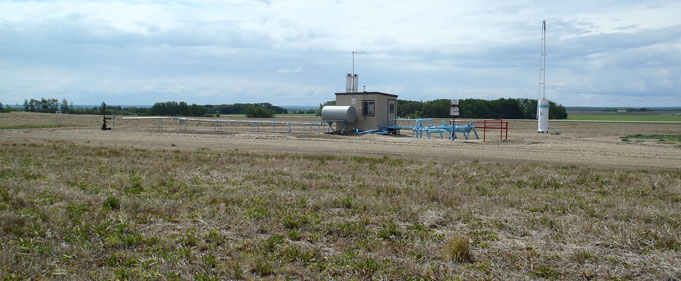 Pearson Farms - Hythe, AB (Northwest of Grande Prairie)
Property Summary
Pearson Farms - Hythe, AB (Northwest of Grande Prairie)
21 Quarters of Farmland & 2 Country Residential Acreages
3183+/- Acres on Title – 2712+/- Acres Cultivated
$34,000+/- Annual Surface Lease Revenue
Property Features
$34,000± Annual Surface Lease Revenue
3183± Acres on Title, 2712± Acres Cultivated
These properties are well located within a 7 mile radius of the town of Hythe.
All quarters are adjacent to or less than 2 miles from paved roads - Hwys 2 & 59 and Sec. Hwys 672 East/West & 721 North of Hythe.
CR5 zoning on parcels 23 & 24.
Majority of the property is perimeter fenced
Land has been in a Grain, Forage and Tame pasture rotation
Tremendous building sites with great views & investment opportunities.
These properties will be sold on October 4, 2012 at unreserved public auction at Grande Prairie, AB. Each lot will be sold to the highest bidder on auction day, regardless of price.
Directions
From Grande Prairie, AB, go 56 km (34.8 miles) West on Hwy 43, OR from Beaverlodge, AB, go 14 km (8.7 miles) Northwest on Hwy 43.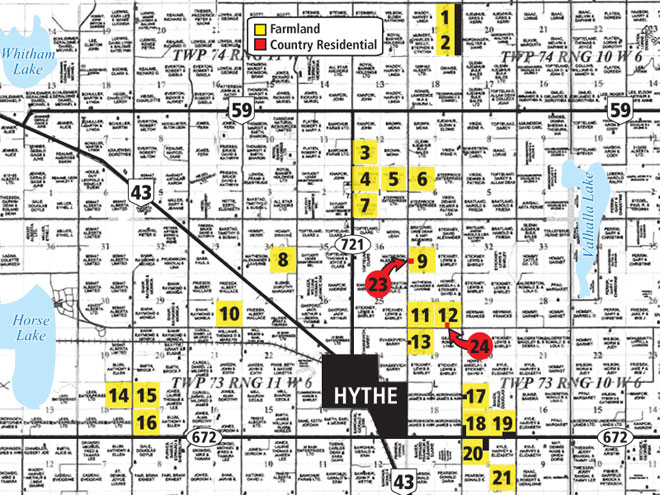 AB/MD of Grande Prairie #1
AGRICULTURAL FARMLAND
| | |
| --- | --- |
| Parcel 1 | PNE19-74-10-W6 118.40± Acres on Title Farmland, light bush, improved pasture, 2 dugouts, and perimeter fenced, SLR |
| Parcel 2 | PSE19-74-10-W6 118.32± Acres on Title Farmland, light bush, improved pasture, dugout, perimeter fenced, SLR - $3500 |
| Parcel 3 | PSW12-74-11-W6 158.21± Acres On Title Farmland, 152± acres cult, summer fallow in '12, barley in '11, 2 borrow pits, SLR - $2500. |
| Parcel 4 | PNW1-74-11-W6 155.26± Acres on Title Farmland, 154± acres cult, summer fallow in '12, barley in '11, SLR - $2429. |
| Parcel 5 | NE1-74-11-W6 160± Acres On Title Farmland, 158± acres cult, summer fallow in '12, barley in '11, SLR - $2370. |
| Parcel 6 | NW6-74-10-W6 160± Acres On Title Farmland, 85± acres cult, seeded pasture in '12, balance peat/light spruce, tamarac, bush, dugout, perimeter & crossed fenced. |
| Parcel 7 | SW1-74-11-W6 155.26± Acres On Title Farmland, 155± acres cult, Round-Up Ready canola in '12. |
| Parcel 8 | SE34-73-11-W6 160 ± Acres on Title Farmland, 109± acres cult, seeded pasture in '12, perimeter fenced. |
| Parcel 9 | PSW31-73-10-W6 156.01± Acres on Title Farmland, 150± acres cult, 115± acres Round-Up Ready canola, 35± acres seeded pasture in '12, dugout, perimeter fenced, water run. |
| Parcel 10 | SE28-73-11-W6 159.02± Acres On Title Farmland, 145± acres cult, seeded pasture in '12, 3 dugouts, perimeter & cross fenced, water run. |
| Parcel 11 | SW30-73-10-W6 158± Acres on Title Farmland, 145± acres cult, 135 +/- acres Round-Up Ready canola, pasture in '12, fenced 3 sides, dugout, SLR - $2900 |
| Parcel 12 | P SE30-73-10-W6 152.98± Acres On Title Farmland, 152± acres cult, seeded pasture in '12, fenced 3 sides, cross fenced, 2 dugouts |
| Parcel 13 | PNW19-73-10-W6 153.03± Acres on Title Farmland, 150± acres cult, canola in '12, SLR - $5,650. |
| Parcel 14 | NE18-73-11-W6 160 +/- Acres on Title Farmland, 141 +/- acres cult, mature hay in '12, 10 +/- acres bush, SLR - $8626 |
| Parcel 15 | NW17-73-11-W6 160± Acres On Title Farmland, 155± acres cult, hay in '12, shared dugout. |
| Parcel 16 | SW17-73-11-W6 159± Acres On Title Farmland, 159± acres cult, summer fallow in '12barley in '11, shared dugout. |
| Parcel 17 | PNW17-73-10-W6 150± Acres on Title Farmland, 140± acres cult, summer fallow in '12, barley in '11. |
| Parcel 18 | PSW17-73-10-W6 146.97± Acres on Title Farmland, 140± acres cult, summer fallow in '12, perimeter fenced. |
| Parcel 19 | PSE17-73-10-W6 144.46± Acres on Title Farmland, 136± acres cult, summer fallow in '12, perimeter fenced, SLR - $4950. |
| Parcel 20 | PNW8-73-10-W6 144.96± Acres on Title Farmland, 140± acres cult, summer fallow in '12, borrow pit, treed water run, perimeter fenced, pasture sloped from East to West. |
| Parcel 21 | SE8-73-10-W6 159.08± Acres On Title Farmland, 147± acres cult, summer fallow in '12, pasture, dugout, perimeter, fenced, 1/2 mile from pavement, SLR - $500. |
RESIDENTIAL ACREAGES
| | |
| --- | --- |
| Parcel 23 | PSW31-73-10-W6 2.99± Acres on Title Residential Acreage, zoned CR5. |
| Parcel 24 | PSE30-73-10-W6 5.02± Acres on Title Residential Acreage, zoned CR5. |
Contact Information
Don & June Pearson (Owner)
Michael Slon (Ritchie Bros. Sales Representative)
Simon Wallan (Ritchie Bros. Sales Representative)
Rick Wallan (Realtor)
All Peace Realty