Sale Schedule (local time)
Auction starts at: 10:00 am
Internet starts at: 12:00 pm
Real Estate sells at: 12:00 pm
Equipment sells at: Following Real Estate
Contact Information
T.J. Harvey (Owner)
John Harvey (Owner)
Fred Rutherford (Ritchie Bros. Territory Manager)
Real Estate in this Auction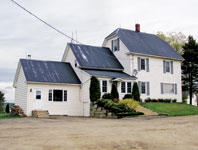 Seed Potato Production Facility, 20 Parcels of Farmland, Country Residential Acreage & Full Equipment Lineup. Glassville, NB (East of Florenceville/Bristol)
1500 +/- title acres, 650 +/- Potato Production Acres. Find out more.
Online Shipping Quotes
Need to move equipment to or from an auction site in Canada, the U.S. or Europe? Save time and money with our online shipping service.
Some services not yet available in all locations.
Ridge View Seed Farms Ltd
Auction Details
Site phone:
1 506 2465342
Office hours:
8:00 am - 5:00 pm
Directions to Sale Site
From Florenceville-Bristol, NB travel East on Route 107 to Glassville, then go 2.5 km (1.6 miles) South on Route 580, Yard on West side
Auction Notes
No item may be removed until purchases are paid in full.
Auction Map
Show on Map
Auction Site
Glassville, NB
46. 27.726
67.25.272
Auction HQ
Car Rentals
Hotels
Get Directions
Directions
en_US
AIzaSyDW_m4XC5hfRZHVJ9ajgohJzVgyPHDPfm8