More People. Go Unreserved.
When you sell with Ritchie Bros. it's unreserved; that means it's completely straight forward, open and honest. An unreserved auction attracts more bidders than any other – more bidders, more demand, better results on auction day.
Talk to your local representative about selling your equipment and trucks at an upcoming unreserved auction:
Find Your Local Representative
Recent Auction Highlights
Brisbane, QLD—Sept. 13, 2011
AU$29 million of equipment
1,100+ bidders from 30 countries
Geelong, VIC—Sept. 15, 2011
AU$30 million of equipment
1,400+ bidders from 33 countries
Talk to your Ritchie Bros. representative about the benefits of selling at an unreserved auction.
What our Customers Say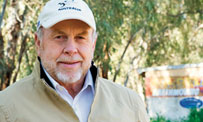 "When you sell unreserved, you know you're going to get a result. With Ritchie Bros., you know you're going to get the best result."
Peter Delaney, F.A.
Delaney Quarries.