Cindy Taylor and her husband Kyle Stewart started out with one truck; they now run a growing 80-person construction company in Utah.
When it comes to making business decisions, Cindy and Kyle always keep two things in mind: family and ethics. That's why they choose Ritchie Bros.
The reps that I have worked with have become part of my family.
People are often surprised when they meet Cindy Taylor, president of Cindy Taylor Trucking and Construction of St. George, Utah. "They think I don't exist," she laughs. "They assume it's just a name the company uses for tax purposes. I'm a woman working in a man's world."
But Cindy is as much the driving force behind the growing company as Kyle Stewart, her husband and business partner for over 30 years. They married as teenagers and soon had six children – all now grown. Four work in the family business.
"Back then, Kyle ran over-the-road and I would do dispatch out of the house," Cindy recalls. "But he'd be gone for so long. We decided to bring him home. We believe that if you have a big family, you do everything you can for them."
The couple stayed in trucking, moving dirt for the county. "But we'd be out on a job and say: we could do that," says Cindy. So in 1991 they got their contractor's license and incorporated Cindy Taylor Trucking and Construction. Cindy ran the business from their home office, near the kids, while Kyle worked out in the field. They bought trucks and equipment from Ritchie Bros. "Kyle loves an auction," says Cindy, "and Ritchie Bros. is really the only straight-up auction."
The company's "big bump" came in 1994. Cindy received a call from an international company doing a major project in nearby Bryce Canyon. They needed trucking. The requirements: 27 trucks, build your own haul road to the site, move dirt for two straight years. "I told them we could do it," says Cindy. "When I told Kyle, he said, 'What?!' At the time we had one truck, one loader, one backhoe. I said it would be fine. We'd go to Ritchie Bros., get some trucks."
So they did – and there's been no turning back. The company expanded in one week from four people to 30, and it's enjoyed steady growth since then. Today, they employ about 85 people and work mainly on county, city and state projects. "You work for people who can pay you," she says. "We try to stay away from private projects and I think that's why we've done okay during the downturn. We're still hiring people and buying equipment."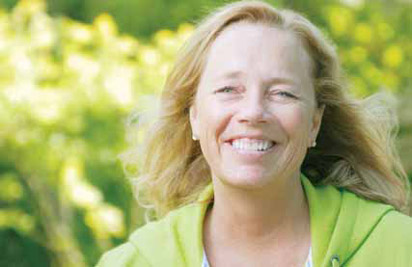 Over the years, they've bought a lot of that equipment at unreserved Ritchie Bros. auctions – often bidding online. "Kyle was thrilled when Ritchie Bros. went online," says Cindy. "We're kind of remote here. Now Kyle can go to auctions all over the States without leaving home."
Cindy and Kyle keep their equipment fleet as up-to-date as possible. When it's time to upgrade, they sell their used machines exclusively through Ritchie Bros. Why?
"They're efficient, they're honest, they're straight shooters, they work with you, they're personable, they care about you, they come to my home, they understand my business and they know what I'm looking for," explains Cindy. "The reps that I have worked with have become part of my family."
And for Cindy and Kyle, there's nothing more important than family – except perhaps ethics.
"Kyle and I have this thing: everything has to be really straight; black and white," says Cindy. "You're always honest and you always keep your word. For us, your word is your bond. That's how we work and we try to work with people who are the same way – like Ritchie Bros. They are straight up, honest, good, caring people. They do exactly what they say they're going to do. It's more than just business with Ritchie Bros. It's a partnership."
Written and publised: 2009