Unreserved Commitment to Safety.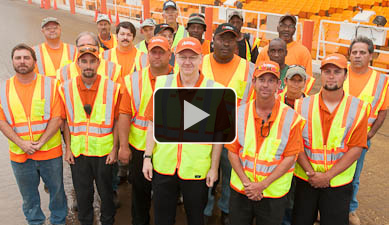 One of our core values at Ritchie Bros. is "We do what is right." And when it comes to the health and safety of our employees and customers, that's paramount in how we work. Not only do we strictly adhere to the highest safety standards, practices and regulations everywhere we operate around the world, we strive to go above and beyond them to help keep everyone safe everyday.
View the Ritchie Bros. Occupational Health and Safety Policy.
As part of our Unreserved Commitment to Safety, our Environmental, Health & Safety (EH&S) Group promotes and maintains safe environments and working conditions by:
Establishing and regularly updating a company-wide EH&S program
Encouraging, empowering and educating employees to be proactive about safety, and increasing their awareness of safety hazards
Ensuring that all Ritchie Bros. employees report any incidents (including near misses) and safety concerns to their managers
Ensuring that all reported incidents and safety concerns are investigated, and corrective actions are implemented in a timely manner
Maintaining the highest standards of safety and strictly adhering to local & regional safety laws and standards
Constantly working to reduce incidents and/or injuries
Setting yearly targets for improving safety performance
Regularly upgrading and updating EH&S training for all employees
Ensuring every workplace has a designated on-site safety representative and staff with certified first aid training
Clearly marking any safety hazards or areas with appropriate signage
Promoting a healthy work/life balance for all employees
2013 safety targets:
Total Recordable Incident Rate
Lost Time Incident Frequency
Lost Time Incident Severity
Forklift/Loader related incidents
Safety target results (2009 – 2012)
| | | | | |
| --- | --- | --- | --- | --- |
| | 2012 | 2011 | 2010 | 2009 |
| Total Recordable Incident Rate (1) | 2.62 | 1.67 | 2.25 | 2.98 |
| Lost Time Incident Frequency (2) | 0.74 | 0.50 | 0.79 | 0.93 |
| Lost Time Incident Severity (3) | 2.91 | 7.69 | 12.19 | 46.81 |

(1) Number of work-related illnesses or injuries that result in off-site medical treatment per 200,000 hours worked
(2) Number of recordable incident that results in a full day(s) away from work per 200,000 hours worked
(3) Number of days lost due to a lost time incident per 200,000 hours worked
Safety Award - First ever winner
The purpose of the Safety Award is to honour an auction site that has shown a strong dedication and commitment to health and safety. We would like to recognize the inaugural winner of the first annual Ritchie Bros. Safety Award: Nashville, TN.
Honourable mention to our sites in Chicago, IL; Fort Worth, TX and Kansas City, MO.
Auction Site Safety Rules
We are committed to providing, promoting and maintaining a safe and healthy environment for our employees, customers and guests. Please familiarize yourself with the Auction Site Safety Rules before you enter our auction site.
If you have any questions, concerns, or suggestions regarding safety at a Ritchie Bros. auction site, just talk to someone in orange. Or feel free to contact us at: EHS@rbauction.com.